THIS ITEM IS FULLY FUNDED. THANK YOU!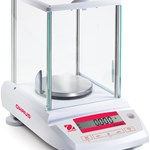 The proper equipment is key to accurate scientific exploration. Help our Science Department procure the necessities needed to further their experience in hands-on science discovery.
Ohaus Precision electronic balance - Indispensable for AP chemistry. These are to the correct precision and are used quite often in AP chem labs. Two are requested at $1,155 each.
Quantities desired and unit costs are shown so you can donate according to increments, if desired. All donations of any amount received will go toward this department. Goal amount shown is the total of all items requested.
Every dollar counts and your donation is greatly appreciated. Click the DONATE button in the box above to make your donation.